"building the field and activating prior knowledge"
I love it when mathematics and English meet and I love finding out about strategies that work in other contexts that I can adapt to mathematics. Annette is her recent resource Writing to Learn recommended a teaching strategy called floorstorming. I had not heard of this strategy that is probably common-place in primary classrooms for English particularly with its clear links to visual literacy. I still use many strategies from the NSW Department's Programming and Strategies Handbook and have previously mentioned some of these in a previous blog. But I must have missed floorstorming, I have been preoccupied with mathematics for many years now so forgive me if this is old news!
Annette provided some wonderful contexts for how floorstorming could be used within English and also made connections to its use in history, geography and visual arts. I wondered what it might look like in mathematics.
Recently, there has been talk about not spending too much time frontloading in mathematics lessons. Not spending 20 minutes explaining the task or the concept and only allowing students a short amount of time to 'play' and 'explore' the task. We often now start with the problem to solve, teaching the concepts as needed – point-in-time, point-of-need. Frontloading however does have its benefits when used launch a lesson, set up the context, or to hook students in.
"According to Wilhelm (2004), frontloading "lays the foundation of prior experience" by igniting curiosity … and "trigger[ing] the appropriate background knowledge that students already possess" (p. 75)."
Alisha White, Floorstorming: Building Background Knowledge Through Visual Displays
Alisha White talks about how this type of frontloading is important for improving reading comprehension skills. These skills of making connections to prior knowledge and comprehending the concept being developed are also essential in the mathematics classroom. I was excited this week to also be able to quote Joanne Rossbridge, a literacy consultant when I worked in the South Western Sydney area, whose grammar course is still one of the best professional learning courses I've ever attended. Rossbridge and Rushton in their paper The critical conversation about text: Joint construction, talk about using floorstorming as part of building the field with students along with I see, I think, I wonder strategies.
"the responses became more extended and showed a greater knowledge and more detailed language related to the topic … questions began to be posed … Students were able to add to each other's ideas."
Rossbridge and Rushton, The critical conversation about text: Joint construction
Using strategies in the classroom like floorstorming and I see, I think, I wonder (which is quite similar to it's mathematical counterpart Notice and Wondering) students are more cognitively engaged in meaningful conversations about concepts and each other's understandings.
If you are new to the idea of floorstorming, it is a strategy often used prior to reading a text. Most quote Jeffrey D Wilhem's book Reading is Seeing when describing this tool for learning. When floorstorming, the teacher creates a display on the floor of images and/or objects or artefacts related to the text. Paper or post-it notes are provided beside each image or item for students to comment on (in small groups or as a whole class). Student record their responses to the pictures possibly noting predictions, similarities or differences.
"Comments and noticings can then be grouped and organised to provide the basis for writing observations, then comparisons."
Similarly to brainstorming, the idea is to gain prior knowledge of students about a text, or topic/ concept. I particularly like the use of visuals in floorstorming as this both allows the teacher to pre-plan for some of the connections and provides some scaffolding for students who may need an idea to start with. In Alisha White's paper, Floorstorming: Building background knowledge through visual displays, she provides a helpful list of steps or prompts for students to use as they engage with the images. I have adapted this list for mathematics context:
Look carefully at the images
Describe what you see and what you know about each image
Compare the images, note down what you think is similar (the same), what may be different
Infer (or predict) how the images all relate together
Consider what mathematical concept we might be learning about
Share what you know about this concept
Tell your group what you know and are thinking
Draw or add in other details that you know about the concept that are not in the images
Examples of floorstorming ideas for mathematics
Alisha White's article also provides a lesson structure for planning your own floorstorming. Again, this could be adapted for mathematics. Planning out the mathematical concept you plan to introduce, what background knowledge students need that you hope to draw from students, what aspects may 'draw them in' to the concept and ideas of images/ objects to use. Whites uses the categories of: setting/context, characters/ relationships, plot/conflict and themes. for mathematics these could relate more to the various representations of the concept we want to develop, for example, numbers, symbols, language, context (real-world), structure or use. Below are a few example sets of images that could be the stimulus for floorstorming in mathematics.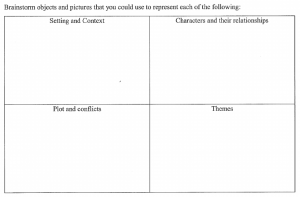 1. Mathematical concept: different ways to represent time or duration
2. Mathematical concept: parallel lines never intersect
3. Mathematical concept: place value, counting numbers (quantity)