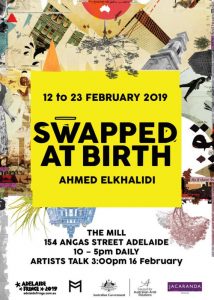 I have just had the good fortune to be involved in an art exhibition which was part of the Adelaide Fringe Festival. There was a good deal of running around, organising, printing, hanging, negotiating and coordinating the many aspects of such a show.
The exhibition, by Jordanian artist Ahmed Elkhalidi in collaboration with Rua Hashlamoun, was built around the sense of home, of what home represents, elements of home, what we take when we leave our home, and what is left behind. Of what is swapped with the other. The show was produced and curated by Jordan's Jacaranda Images Gallery.
The pieces were personal and moving. Each piece resonated with viewers through the universality of the subject matter.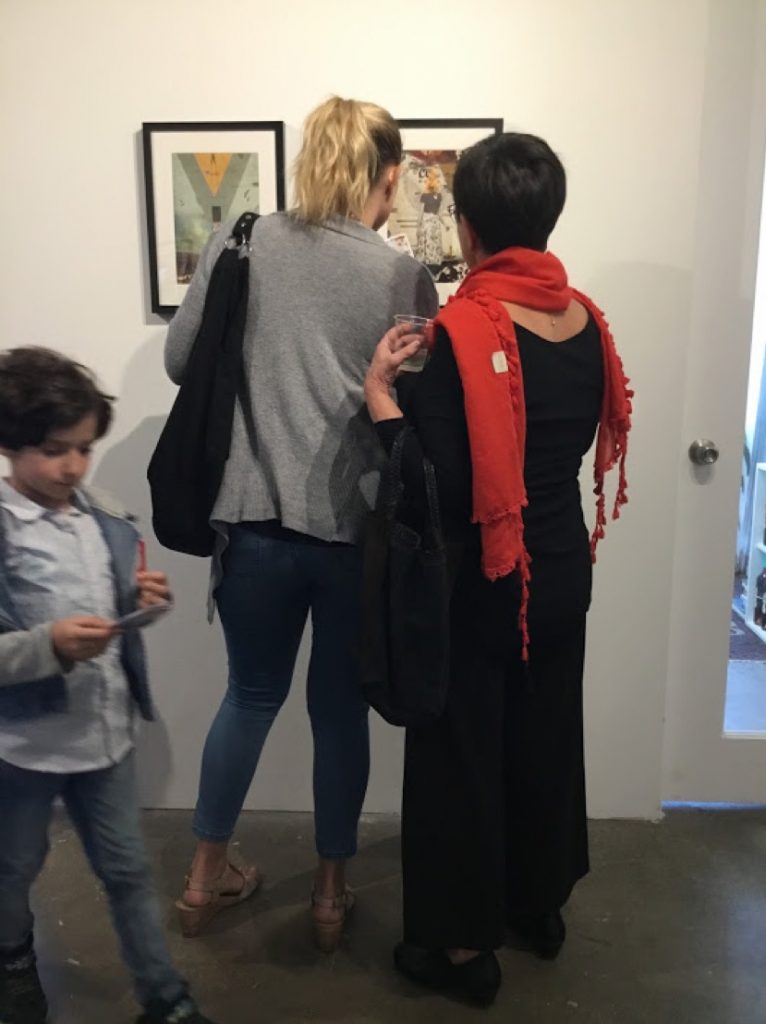 As part of the show, an 8-page handout had been prepared, designed to guide children to look deeply into a selection of the complex and many-layered works.
Each page had a thumbprint image and the title of a work, and several questions relating directly to the work with space to answer. Considerable research had gone into the types of questions used, and their purpose, in order to determine which would be most effective for both the viewer and for the artist's message.
Aspects of response included:
Initial visual responses – 'What is the first thing you see in this picture?'
The familiar and the unfamiliar – 'What images from Jordan can you see?'
Observation and personal interpretation – 'What animal can you see in the artwork? Why do you think it is there?'
Consideration of the artist's feelings – 'How do you think the artist feels about his home?'
The personal – 'If you were travelling on this road, where might you be going?'
Engagement of the senses – 'If you could climb inside this picture, what might you hear?'
Creativity – 'How did the artist feel on the morning he did this picture?'
Being close to the exhibition took me briefly into the world of the artist, and the significance of the personal. These questions and my own responses made my experience of the show more significant.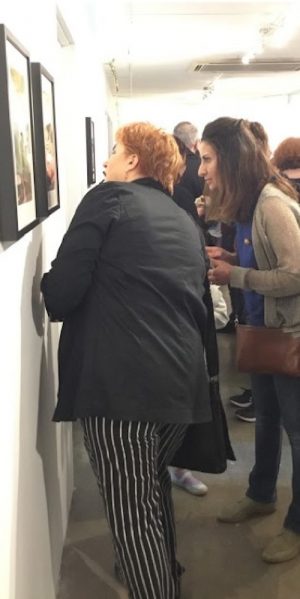 The guests affirmed this. People from a wide range of backgrounds peered into the pieces, moved by the sense of the challenge of leaving home presented so graphically. They recognised many of the elements Ahmed used to build his images – buildings and streetscapes of Adelaide, Australian desert scenes and signposts, the Sydney Harbour Bridge, snatches of text, the Vegemite logo – juxtaposed and combined with Arabic text, buildings and streetscapes of Amman, shop frontages, coffee pots, houses and public buildings, and so on. These were combined with variations in the size of the text, geometric elements and colour to make each piece a rich display of meaning.
Both adults and children used the question booklets to guide their examination of the images.
We shared the world of the artists, of response, symbols and meaning, metaphor and contrast, of similarities and difference.
These are critical elements for making meaning, of literacy.
Presenting this world to our students is what we do – we give them the tools and knowledge to be able navigate and learn and build their knowledge so they can communicate effectively and understand how the world works.
We do this through the exploration of authentic, well-written text. And we also need to be prepared to explore many forms of text, and art and music. We can read and write challenging texts, go to art exhibitions and make our own artworks, and explore music by making and listening.
We can risk ideas, and assist our students to use their powers of observations – 'look, look and look again … and ambiguity, this challenge, this lack of solidity that is the human condition, they should use the other senses in a similarly intense way' (Sedgwick xiii), so that they know that their experiences and responses are valuable.
Where does this sit in our mandatory curriculum content? Are we 'allowed' to explore? To take risks? For NSW syllabus content, we can begin with English.
The aim of English in Years K–10 is to enable students to understand and use language effectively, appreciate, reflect on and enjoy the English language and to make meaning in ways that are imaginative, creative, interpretive, critical and powerful.

NSW English Syllabus K-10 p.15
That statement itself is permission for us to take our students on different paths to syllabus outcome ends.
We can extend our understandings of the possibilities underpinning such explorations through the English Textual Concepts, which inform the NSW English K-10 syllabus.
A common understanding of the knowledge and skills of subject English, linked directly to the NSW English Syllabus K-10, is one of the aims of the English Textual Concepts project, developed as a collaboration between the NSW DoE and the English Teachers Association of NSW. Components of this project include six key Learning Processes and Textual concepts and processes. The descriptions of these from Early Stage 1 to Stage 6 demonstrates the 'through line' of this learning across the years of formal schooling. What is learned and developed in the early grades provides the expanding basis for later study. Our wok in Kindergarten informs the child when they are working in Stage 6.
Learning process – Engaging personally
In English it is mandated that we provide for students to explore text in many iterations. Engaging personally with texts has valid application to the examination of visual text.
Engaging personally with a text can facilitate and be influenced by deeper critical and imaginative response to its representation of their wider world. Personal engagement with texts encourages students to express with discernment, confidence and with an authentic voice, ideas, opinions and values in their own compositions.

English Textual Concepts Learning Processes
These refer directly to the objectives of the syllabus. Here is a selection that is applicable to our topic.
Through responding to and composing a wide range of texts and through the close study of texts, students will develop knowledge, understanding and skills in order to:

think in ways that are imaginative, creative, interpretive and critical
express themselves and their relationships with others and their world

NSW English Syllabus K-10 p.13 (AG emphasis)
Close examination of both written and visual texts provides a way for students to look, to see, to consider and to respond, and to challenge. They bring and connect their world, their experiences, their connections, and their relationship with the world at large to the works they are exposed to, and can explore alternative interpretations.
Artworks, as with written texts, must be carefully curated by the teacher who knows the students.
Processes described in the English Textual Concepts articulate the goals of the English syllabus.
From Early Stage 1, students understand that opinions can be articulated in and through texts. They learn that opinions, preferences for and ideas about texts and authors may differ.

From Stage 1, students understand that personal experience and interest shape their opinions and choices and they learn that these opinions can be shared and questioned.  

 In Stages 2 and 3 students learn that views of the world in texts … may differ from each other, are based on selections, and may be represented in various ways in different modes and media.

English Textual Concepts Textual concepts and processes
Students may use their first language to respond to an artwork by way of a key question. The thinking, interpretation and discussion provide a strong personal basis for the expressing themselves in English.
Students' exposure to varieties of perspective strategies, such as the simple question format described above, provides further opportunity to talk about and justify ideas.
Textual concept – Perspective
The textual concept of Perspective demonstrates the way understandings about literacy and learning can be directly applied to examples of text such as artworks.
Perspective includes the values that the responder and composer bring to a text. … By adopting different perspectives, a responder can bring to light underlying values in the text and construct meanings which may challenge, confirm or modify the original reading of a text.

Applying different perspectives may also challenge, confirm or modify the responder's and composer's own values.

English Textual Concepts Textual concepts and processes
Values and attitudes are at the heart of the NSW English syllabus. Here is a selection that is applicable to our discussion:
Students will value and appreciate:

the importance of the English language as a key to learning
the power of language to explore and express views of themselves as well as the social, cultural, ethical, moral, spiritual and aesthetic dimensions of human experiences
the power of effective communication using the language modes of speaking, listening, reading, writing, viewing and representing
the role of language in developing positive interaction and cooperation with others
the diversity and aesthetics of language through literary and other texts
the independence gained from thinking imaginatively, creatively, interpretively and critically.

NSW English Syllabus K-10 p.13
Artworks are an ideal medium to allow the opportunity for looking and seeing and thinking and responding. The process described here can help ensure that the values and attitudes are embedded in the processes that provide experiences that students may not have in their regular activities.
The questions that we ask our students as they examine artworks should be presented to encourage both individual consideration, and opportunities to share observations and opinions.
We can help students develop awareness of their personal voice. Questions can range from 'What shapes can you see in the image?' to 'Do you think the title matches the work?'
Questions can lead to considerations of opinion, such as 'Why do you think the artist chose to arrange the elements of the image in a circle?' and 'Which part of the image do you think is the most important?'
When students respond, they can explain, to justify their choices, to make links with their own lives, and to respond with their own works. They can position themselves as interpreters of the ideas of the composer, and of their own opinions.
One project, Beyond the Dots (videos and transcript) at Chullora Public School, titled 'Always was, always will be Aboriginal land', demonstrates a process of engaging students with making and responding to visual text. The Reflection stage of the process is particularly effective.  Students combine reading, writing, talking and listening with composing and responding in this engaging project.
Extension of this project could include the students developing questions for others about the artworks, for example, Can you find the Australian flag in this work? What does this represent for you? Would you include the Australian flag in your own work?  These can be presented in a booklet for other students, other classes, teachers and parents at the school to use as a guide to the symbolism and metaphor used by the students.
Opinions, justification, development of personal voice and expanded as students become critical thinkers about, and insightful readers of, all texts. The aim, and the attached values, of the NSW English syllabus, are embedded in such work.
Literacy is about developing knowledge and skills for making meaning about the world and our place in it. We can go back to the aims and objectives of our work in English to provide the authority for us to be bold in our work with our students.
We can use what appear to be constraints to our work to lighten up a little … to keep our imaginations alive and our spirits intact (Sedgwick 2000 p.xx) to extend children's thinking and their understandings of possibilities around both us and them.