This is a series of online courses focusing on Literacy. Each course is a separate registered course through NESA.
The objectives for the courses are that teachers will:
Understand the research that underpins the development of students' understanding of aspects of literacy
Gain knowledge of effective teaching strategies to support literacy achievement
Reflect on questions posed within the videos relating to aspects of literacy
The 5 online courses in this series are:
Vocabulary
Learning to write
Essential grammar
Paragraphs
For each course there is a pre-reading task. Participants will need to complete the reading and also complete a short couple of question about the reading as part of the accreditation. The pre-reading task and questions contributes 1 hour of the 2 hours for the course.
Participants then view a series of videos (lessons) and respond to open ended reflection questions throughout the course. Viewing the videos and responding to the questions will contribute to 1 hour of the 2 hour course.
As each course is broken into sections (lessons), as you complete a section, this information will be saved so that you can logout and log back in to complete the task at a time that suits you.
Information regarding login details and access to the course/s through our learning management system (Heroica) will be emailed to all participants once they have purchased a course.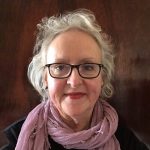 Annette Gray is a literacy consultant and adviser. She has many years' successful teaching experience in classrooms K-10 across Australia and in international settings.
Annette has collaborated on devising and conducting conferences, projects and workshops for all aspects of literacy across all subjects, and in the development of support materials for Australian curriculum and NSW syllabuses.
Annette is passionate about teacher professionalism and the development of teacher professional knowledge and skills in teaching writing, reading, vocabulary, talking and listening.
She supports the vital role that parents have in students' literacy growth, and conducts workshops and information sessions so parents and carers can better support their children's learning.
Registrations for "Talking about learning", the first of a five course series, is open now. The remaining 4 courses will be available shortly.
Each course will cost $25.
Enrol in a course